Japanese architecture
Starting from April 2010, the EFEO Centre in Kyoto will organise a monthly seminar on the history of Japanese architecture.
EFEO News
Roundtable
Online, 26 October 2021
On the occasion of the 30th anniversary of the Paris Agreements on Cambodia, the French Embassy in Cambodia presents a roundtable discussion on the theme "Safeguarding Heritage in the Service of Peace: the Cambodian Experience". This online event, hosted by the French ambassador, will gather representatives from the Cambodian government, APSARA National Authority, UNESCO, International Coordinating Committee for the Safeguarding and Development of the Angkor Region (CIC-Angkor), the EFEO as well as other actors involved in heritage conservation and development in Cambodia.
🗓️ Tuesday, October 26 from 2:30pm to 4:30pm (Cambodian time, 9:30am to 11:30am French time)
To join the event ➡️
fb.me/e/2CdlgSkX0
In Memoriam
20 October 2021
It is with deep regret that we learn of the demise of the eminent sinologist and former director of the École française d'Extrême-Orient (EFEO), Léon Vandermeersch, who passed away on October 17, 2021 at the age of 93.
The entire staff of the EFEO will always remember him with the greatest respect and we express our deepest condolences to his family.
In Memoriam by Franciscus Verellen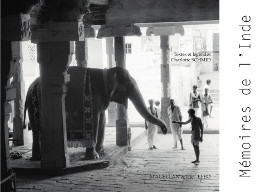 New Publication
Mémoires de l'Inde
Textes et légendes
Charlotte Schmid
READ MORE
Covid-19 Information: new procedures of the library
Paris, France, 11 October 2021
From Monday, September 13, access to the EFEO library changes:
The library will be open Monday to Friday from 9 a.m. to 6 p.m
It will no longer be necessary to reserve a place in the reading room, but you will have to be registered or pre-registered on the Bulac catalogue for the "Maison de l'Asie" site: https://catalogue.bulac.fr/
The documents will be communicated 20 minutes after their reservation from your reader's account, and will be made available on the shelves on the patio side of the reading room- The library will welcome 15 readers per day. In case of overcrowding, priority will be given to readers consulting EFEO documents
The health pass will not be required, but the wearing of masks and the respect of protective measures will continue to apply
If you are experiencing Covid-19 type symptoms, please postpone your visit to the library.
Aséanie
Online,
All issues of the journal
Aséanie
(from 1997 to 2014) are now available on Persée!