Southeast Asian Core Collections
The souheast asian collections are the heart of the Library of the French school of asian studies. It covers a wide range of geographical areas, Cambodia, Laos, Vietnam, Thailand, Myanmar, Malaysia, Singapore, Brunei, Indonesia and to a lesser extent East Timor and the Philippines.
The core of the collections was built by the Indochinese studies lead by the founding fathers of our school, Louis Finot, Georges Coedès, and Henri Parmentier. The Southeast Asian collections then kept on increasing via donations, exchanges, and purchases focusing on Efeo's domains of excellency, archeology, architecture and art history, epigraphy and philology, languages and classical literature, history and religious studies.
The collections grow through purchases of documents in western languages in Paris headquarters, as well as in vernacular in Southeast Asia via the research centres in Chiang Mai, Kuala Lumpur and Jakarta among others.
The Southeast Asian collections have close to 33 000 monographies catalogued in SUDOC, half of which in vernacular, and about 300 periodicals.
In terms of statistics, Thailand has the most documents with 15 000 references in the catalogue, Indonesia is second with 6 000 titles, Vietnam has 3 000 titles and finally Cambodia with nearly 2 000.
Moreover our library has a precious collection of manuscripts and rubbings collected during our researchers field studies abroad, from the Indochinese period to present day.
These collections comprise several hundreds khmer and cham manuscripts, over one hundred siamese and pali manuscripts and a dozen indonesian and burmese manuscripts.
Finally, the collection of rubbings concerns Cambodia (over one thousand), Campa and Indonesia (several hundreds) as well as the State of Rhakine and Myanmar (several dozens).
Contact: Magali Morel, head of the Southeast Asian core collections
EFEO News
In Memoriam
20 October 2021
It is with deep regret that we learn of the demise of the eminent sinologist and former director of the École française d'Extrême-Orient (EFEO), Léon Vandermeersch, who passed away on October 17, 2021 at the age of 93.
The entire staff of the EFEO will always remember him with the greatest respect and we express our deepest condolences to his family.
In Memoriam by Franciscus Verellen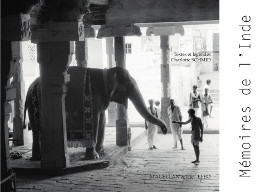 New Publication
Mémoires de l'Inde
Textes et légendes
Charlotte Schmid
READ MORE
Covid-19 Information: new procedures of the library
Paris, France, 11 October 2021
From Monday, September 13, access to the EFEO library changes:
The library will be open Monday to Friday from 9 a.m. to 6 p.m
It will no longer be necessary to reserve a place in the reading room, but you will have to be registered or pre-registered on the Bulac catalogue for the "Maison de l'Asie" site: https://catalogue.bulac.fr/
The documents will be communicated 20 minutes after their reservation from your reader's account, and will be made available on the shelves on the patio side of the reading room- The library will welcome 15 readers per day. In case of overcrowding, priority will be given to readers consulting EFEO documents
The health pass will not be required, but the wearing of masks and the respect of protective measures will continue to apply
If you are experiencing Covid-19 type symptoms, please postpone your visit to the library.
Aséanie
Online,
All issues of the journal
Aséanie
(from 1997 to 2014) are now available on Persée!
24e Rendez-vous de l'histoire de Blois
Blois, France, 06 October 2021
Meet the Réseau des Écoles françaises à l'Étranger - ResEFE - at the 24th Rendez-vous de l'histoire in Blois during the Carte blanche for the ResEFE: "
Les chercheurs sur leur terrain de travail : questions sociales et environnementales
". October 8, 2 to 3:30 p.m. Chocolaterie site of the IUT - Amphi 1, Blois.
Christophe Pottier, for the EFEO, will present "Vivre et travailler dans les temples d'Angkor au XXe siècle".
The ResEFE will also be present at the
Salon du livre
, on the stand of the Librairie Jean de Léry (Stand N and N')