South Asian Core Collections
The South Asia collection at EFEO Central Library in Paris includes: India, Pakistan, Bangladesh, Sri Lanka, Tibet, Nepal, Bhutan.
This collection mainly focuses on classical research in religion, philosophy, religious history, art and religious iconography, archaeology, epigraphy, studies of source material, ancient history, and to a lesser extent, social sciences.
The collection expanded according to fields of research of EFEO researchers, such as Jean Filliozat, Suzanne Karpelès, François Gros, N.R. Bhatt, Françoise l'Hernault, etc.
Nowadays, it consists of approximately 21,000 documents in Western and Eastern languages (mainly in Sanskrit and Tamil), 133 titles of periodicals mainly in English language (including 22 current titles), more than one hundred manuscripts, a hundred maps, some rubbings and works of art (Tibetan figurines), and approximately 19,000 photographs (available for consultation at EFEO Paris photo library).
Since 2011, approximately 5,000 monographs and 50 titles of periodicals were deposited at BULAC (the following fields are in deposit according to documentary policy: literature and linguistics, Tamil studies, law, economics, sciences).
Collections of the Library of Pondicherry EFEO Center, which focus on Tamil and Sanskrit philology, archaeology, art history and epigraphy of South India, are also available in our online catalogs.
Contact: Maïté Hurel, head of the South Asian collection
EFEO News
In Memoriam
20 October 2021
It is with deep regret that we learn of the demise of the eminent sinologist and former director of the École française d'Extrême-Orient (EFEO), Léon Vandermeersch, who passed away on October 17, 2021 at the age of 93.
The entire staff of the EFEO will always remember him with the greatest respect and we express our deepest condolences to his family.
In Memoriam by Franciscus Verellen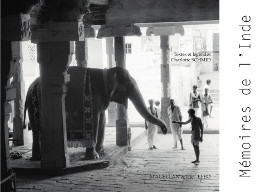 New Publication
Mémoires de l'Inde
Textes et légendes
Charlotte Schmid
READ MORE
Covid-19 Information: new procedures of the library
Paris, France, 11 October 2021
From Monday, September 13, access to the EFEO library changes:
The library will be open Monday to Friday from 9 a.m. to 6 p.m
It will no longer be necessary to reserve a place in the reading room, but you will have to be registered or pre-registered on the Bulac catalogue for the "Maison de l'Asie" site: https://catalogue.bulac.fr/
The documents will be communicated 20 minutes after their reservation from your reader's account, and will be made available on the shelves on the patio side of the reading room- The library will welcome 15 readers per day. In case of overcrowding, priority will be given to readers consulting EFEO documents
The health pass will not be required, but the wearing of masks and the respect of protective measures will continue to apply
If you are experiencing Covid-19 type symptoms, please postpone your visit to the library.
Aséanie
Online,
All issues of the journal
Aséanie
(from 1997 to 2014) are now available on Persée!
24e Rendez-vous de l'histoire de Blois
Blois, France, 06 October 2021
Meet the Réseau des Écoles françaises à l'Étranger - ResEFE - at the 24th Rendez-vous de l'histoire in Blois during the Carte blanche for the ResEFE: "
Les chercheurs sur leur terrain de travail : questions sociales et environnementales
". October 8, 2 to 3:30 p.m. Chocolaterie site of the IUT - Amphi 1, Blois.
Christophe Pottier, for the EFEO, will present "Vivre et travailler dans les temples d'Angkor au XXe siècle".
The ResEFE will also be present at the
Salon du livre
, on the stand of the Librairie Jean de Léry (Stand N and N')