Research Units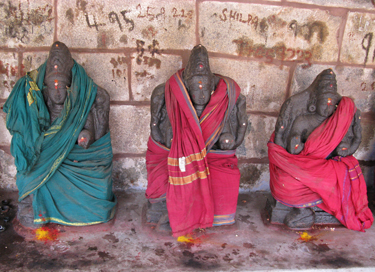 The whole EFEO research program brings together its academic staff and visiting scholars to conduct interdisciplinary research. Through its diverse scholarly partnerships, the EFEO fosters transversal research [projects] both on a regional and international scale. This general research program is divided into two sectors:
EFEO News
Lectures
Paris, France, 21 June 2019
As part of the research on Dunhuang conducted by the CRCAO (UMR 8155) and the EFEO,
GUO Junye and DANG Yanni
(Dunhuang Academy) will give the following lectures:
- "The Royal Family of Khotan and the'Nirvana Temple'" (Guo Junye)
- "The Scripture On the Ten Kings: Belief and Practices" (Dang Yanni)
From 2pm to 4pm, Maison de l'Asie, 22 avenue du Président-Wilson, 75116 Paris, salon on the 1st floor.
Paris EFEO/ASIES Seminar
Paris, France, 17 June 2019
Olivier De Bernon (EFEO) speaks on "
Les élites sociales et religieuses dans les Codes anciens du Siam et du Cambodge
". This seminar is part of the « Exils et Migrations » theme of the ASIAS seminar (master AMO - Asie méridionale et orientale : terrains, textes et sciences sociales).
From 10:30 to 12:00, free admission
Maison de l'Asie, 22, avenue du Président Wilson, 75116 Paris, Grand salon, 1st floor
READ MORE
Exhibition ''L'imagerie populaire d'Ôtsu : un art oublié du Japon d'Edo''
Paris, France, 15 June 2019
You have
until June 15
to discover the exhibition "
Ôtsu-e : peintures populaires du Japon
", whose
catalogue
is also published by the EFEO.The images of Ōtsu are anonymous paintings produced during the Edo period in villages not far from Kyoto, to be sold to travellers who used to travel along the Tokaido road.
Special Archélogia Series n°27
Paris, France, 13 June 2019
On the occasion of the
Journées nationales de l'archéologie
from 14 to 16 June 2019, the EFE published a Special Archélogia Series (Editions Faton) coordinated by F. Prost. It contains contributions from Christophe Marquet, Élisabeth Chabanol, Viengkèo Souksavatdy, Christine Hawixbrock et Damian Evans.
Session at the AIBL
Paris, France, 24 May 2019
On Friday, May 24, 2019, a thematic session was held at the Académie des Inscriptions et Belles-Lettres, under the patronage of His Majesty Norodom Sihamoni, on "25 ans de contributions cambodgienne, française et internationale à la conservation et au développement d'Angkor", in the presence of Christophe Marquet, EFEO Director.
The Secrétaire perpétuel Michel Zink "underlined the extent of the debt owed by the Cambodians and the French, and more broadly by the international community, to the École française d'Extrême-Orient, whose work in Angkor has been supported by the Académie since its beginnings".
Master « Études Asiatiques » (EHESS-EPHE-EFEO) – Inscriptions 2019-2020
Paris, France, 22 May 2019
PSL University opens at the start of 2019-20 a new master "Études Asiatiques". This collaboration between the École française d'Extrême-Orient (EFEO), the École pratique des hautes études (EPHE) and the École des hautes études en sciences sociales with a view to training researchers or experts capable of developing critical thinking on the Asian societies approached in their specialisations and in the long term.
Admissions for the Master "Etudes Asiatiques" are open: see the detailed information and the contacts for the teaching staff on the
Master website
and in its
brochure
.
Martin Nogueira Ramos presents his book
Paris, France,
On Monday, May 20, Martin Nogueira Ramos presents his book
La foi des ancêtres. Chrétiens cachés et catholiques dans la société villageoise japonaise (XVIIe-XIXe siècles)
(CNRS editions, 25 April 2019).
From 4:30 pm to 5:30 pm, in the Salon of the Maison de l'Asie. To attend the presentation,
please confirm by email notification
.