The missions of the EFEO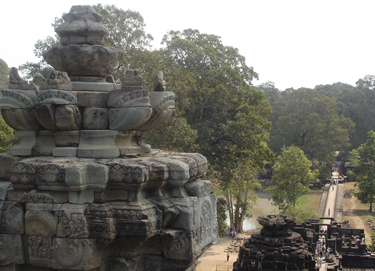 Fieldwork in Asia
The mission of the EFEO, a public institution under the aegis of the French Ministry of Higher Education and Research, is to study the classical civilizations of Asia through the humanities and social sciences. From India, to China and Japan, and covering all of Southeast Asia, the EFEO's research areas include almost all the societies have been under Indian or Chinese influence in the course of history. Leading scholars working at the EFEO's 18 centres and branch offices in Asia have been essential in the development of the School's research programme. Interdisciplinary projects bring together leading scholars in the fields of anthropology, archaeology, history, philology, and religious studies. Since the vast majority of EFEO members carry out field studies in Asia, the emergence of contemporary issues is obviously of relevance for the School.
A Network of International Excellence in Scholarship
For decades the EFEO and its Asian centres have worked in many Asian and European partnerships. Today centres in Pondicherry, Chiang Mai, Siem Reap, Hanoi, Vientiane and Jakarta have their own premises, whereas several EFEO branch offices are hosted by prestigious universities, research institutes and museums. This is the case of Pune, Bangkok, Kuala Lumpur, Yangon, Phnom Penh, Beijing, Hong Kong, Taipei, Seoul and Tokyo.
The EFEO regularly welcomes scholars for extended periods of field study in its Asian centres, particularly for EFEO led research projects. Visiting scholars benefit from the School's local academic partnerships and its rich documentary collections that represent over a century of research. In view of improving scholarly exchanges, the EFEO and 20 leading European institutions for higher education created the European Consortium for Asian Field Study (ECAF) in 2007. As such the EFEO is now in the centre of an international network of leading scholars in Asian studies.
EFEO News
Travel subventions for the conference ''New Perspectives in Chinese History''
Paris, France, 26 August 2019
As part of the organisation of the conference "
New Perspectives in Chinese History
" to be held from 16 to 18 October 2019 in Paris, five travel subventions for students (from Master 2 to PhD candidates, eventually to post-doctoral scholars) engaged in research on the history of modern China (Ming, Qing, Minguo periods) and enrolled in an European institution will be offered to attend this conference.
Details and information
.
New Publications
Paris, France,
Bulletin de l'École française d'Extrême-Orient 104 (2018)
Cahiers d'Extrême-Asie, vol. 27 (2018) : Buddhism and the Military in Tibet during the Ganden Phodrang Period (1642-1959)READ MORE
Dossier Angkor in Archeologia
France,
Find the "
Angkor, the latest discoveries
" dossier to which several EFEO researchers contributed in Archéologia, issue 578, July/August 2019, p. 30-47.
IATS2019 Tibetology Congress
Paris, France, 08 July 2019
Fabienne Jagou, alongside Matthew Kapstein (EPHE), Françoise Pommaret (CRCAO), Françoise Robin (INALCO) and Nicolas Sihlé (CEH), are organising the IATS2019-Paris Tibetology Congress as part of the
International Association of Tibetan Studies (IATS)
. This congress, in which the EFEO is a partner, brings together more than 650 researchers from all over the world and will take place from July 8 to 13, 2019, in Paris, at INALCO.
Programme
Visit to Toyo bunko
Tokyo, Japan, 08 July 2019
Christophe Marquet, Director, was received with François Lachaud, head of the EFEO Center in Tokyo, by the management of Toyo bunko.
Exhibition ''Les voyages de Jacques Bacot et la naissance des études tibétaines modernes en France'' [Jacques Bacot's travels and the birth of modern Tibetan studies in France]
Paris, France, 05 July 2019
A new photographic exhibition is being held at the EFEO (1st floor) on the theme "Les voyages de Jacques Bacot et la naissance des études tibétaines modernes en France" [Jacques Bacot's travels and the birth of modern Tibetan studies in France] until September 30, 2019.
READ MORE
Visit of H.R.H. Princess Sirindhorn
Bangkok, Thailand, 04 July 2019
On July 5, 2018, at the annual conference of the Maha Chakri Sirindhorn Anthropology Centre (SAC), Khunying Khaisri Sri-Aroon invited Her Royal Highness Princess Sirindhorn to visit the offices that the EFEO has occupied since the SAC was created in 1997.Jacques Leider thanked H.R.H. Princess Sirindhorn for the hospitality extended to the EFEO and emphasized the excellent working atmosphere that prevails among all the Centre's researchers.
Legend: From left to right: Surakarn Thoesomboon (secretary of the EFEO Center), Jacques Leider (head of the EFEO Center), Khun Pirapon Pisnupong (Director of the SAC), HRH Princess Sirindhorn and Khunying Khaisri Sri-Aroon (Secretary General of the Princess Maha Chakri Sirindhorn Foundation).