The missions of the EFEO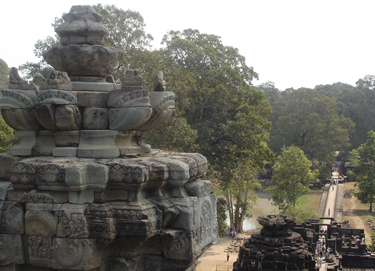 Fieldwork in Asia
The mission of the EFEO, a public institution under the aegis of the French Ministry of Higher Education and Research, is to study the classical civilizations of Asia through the humanities and social sciences. From India, to China and Japan, and covering all of Southeast Asia, the EFEO's research areas include almost all the societies have been under Indian or Chinese influence in the course of history. Leading scholars working at the EFEO's 18 centres and branch offices in Asia have been essential in the development of the School's research programme. Interdisciplinary projects bring together leading scholars in the fields of anthropology, archaeology, history, philology, and religious studies. Since the vast majority of EFEO members carry out field studies in Asia, the emergence of contemporary issues is obviously of relevance for the School.
A Network of International Excellence in Scholarship
For decades the EFEO and its Asian centres have worked in many Asian and European partnerships. Today centres in Pondicherry, Chiang Mai, Siem Reap, Hanoi, Vientiane and Jakarta have their own premises, whereas several EFEO branch offices are hosted by prestigious universities, research institutes and museums. This is the case of Pune, Bangkok, Kuala Lumpur, Yangon, Phnom Penh, Beijing, Hong Kong, Taipei, Seoul and Tokyo.
The EFEO regularly welcomes scholars for extended periods of field study in its Asian centres, particularly for EFEO led research projects. Visiting scholars benefit from the School's local academic partnerships and its rich documentary collections that represent over a century of research. In view of improving scholarly exchanges, the EFEO and 20 leading European institutions for higher education created the European Consortium for Asian Field Study (ECAF) in 2007. As such the EFEO is now in the centre of an international network of leading scholars in Asian studies.
EFEO News
Call for proposals
28 February 2019
Call for applications to participate in a field workshop in India "History, archeology, Bhakti: southern Andra Pradesh" (workshop funded by the project SPIF-ATALS of PSL). Application to be sent before February 28th.
Please click
here
for further informations (in french)
Conference ''Enjeux du patrimoine : de la restauration à la cartographie du paysage archéologique''
Fontainebleau, France, 09 February 2019
Christophe Pottier gives a conference for the APJFA (Association pour la promotion du jumelage Fontainebleau-Angkor):
Enjeux du patrimoine : de la restauration à la cartographie du paysage archéologique
.
At 17h, at the hôtel de l'Aigle Noir, place Napoleon Bonaparte at Fontainebleau.
Paris EFEO/ASIES Seminar
Paris, France, 04 February 2019
Monday 4th February Michela Bussotti speaks on
Images de généalogies chinoises : objets et sources de la recherche
.
This seminar is part of "Images: objects and sources / Research in primary sources" of the ASIES seminar (master Amo - Asie méridionale et orientale : terrains, textes et sciences sociales).
10:30 a.m. to 12:00 p.m. (Free admission)
Maison de l'Asie, First floor salon, 22 avenue du Président Wilson, 75116 Paris
READ MORE
Exhibition ''Les bosquets sacrés d'Aiyaṉār / Groves of Aiyaṉār''
Pondicherry, India, 31 January 2019
As part of the
Pondicherry Heritage Festival
, the exhibition of Jean-Louis Cardin's photographs titled
Les bosquets sacrés d'Aiyaṉār / Groves of Aiyaṉār
was inaugurated on January 31 by Her Excellency Kiran Bedi, Lieutenant Governor of Pondicherry.
Reopening Ceremony of Battambang Provincial Museum
Battambang, Cambodia, 11 January 2019
Inauguration of the new scenography of the provincial museum of Battambang after the resettlement of the collections of sculptures, restorations and restoration on pedestals, conducted by the National Museum of Cambodia with its conservation workshop. In the group gathered around the minister Ms. Phoeurng Sackona, the director of the national museum, M. Kong Vireak and the location manager Huot Samnang: Sreymom, Soda, Chea Socheat, Phy Sokhoeun and the young Sopheak (master 1 Inalco).
Exposition Voiles d'Asie / Sails of Asia
Paris, France, 10 January 2019
Since 21st November the new exhibition
Voiles d'Asie / Sails of Asia. Images from the EFEO photo library in collaboration with the research program "SeaFaring: Maritime knowledge for China seas"
hangs at the Maison de l'Asie on the 1st floor and in the reading room of the library.
Free admission, from Monday to Friday from 9h to 18h.22 avenue du Président Wilson, 75116 Paris.