The missions of the EFEO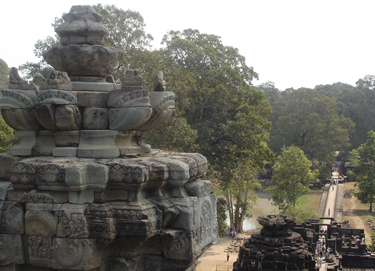 Fieldwork in Asia
The mission of the EFEO, a public institution under the aegis of the French Ministry of Higher Education and Research, is to study the classical civilizations of Asia through the humanities and social sciences. From India, to China and Japan, and covering all of Southeast Asia, the EFEO's research areas include almost all the societies have been under Indian or Chinese influence in the course of history. Leading scholars working at the EFEO's 18 centres and branch offices in Asia have been essential in the development of the School's research programme. Interdisciplinary projects bring together leading scholars in the fields of anthropology, archaeology, history, philology, and religious studies. Since the vast majority of EFEO members carry out field studies in Asia, the emergence of contemporary issues is obviously of relevance for the School.
A Network of International Excellence in Scholarship
For decades the EFEO and its Asian centres have worked in many Asian and European partnerships. Today centres in Pondicherry, Chiang Mai, Siem Reap, Hanoi, Vientiane and Jakarta have their own premises, whereas several EFEO branch offices are hosted by prestigious universities, research institutes and museums. This is the case of Pune, Bangkok, Kuala Lumpur, Yangon, Phnom Penh, Beijing, Hong Kong, Taipei, Seoul and Tokyo.
The EFEO regularly welcomes scholars for extended periods of field study in its Asian centres, particularly for EFEO led research projects. Visiting scholars benefit from the School's local academic partnerships and its rich documentary collections that represent over a century of research. In view of improving scholarly exchanges, the EFEO and 20 leading European institutions for higher education created the European Consortium for Asian Field Study (ECAF) in 2007. As such the EFEO is now in the centre of an international network of leading scholars in Asian studies.
EFEO News
Classics Day Prize 2022
Kyoto, Japan, 19 July 2022
Christophe Marquet, professor of the École française d'Extrême-Orient, was awarded the Classics Day Prize on July 1st, 2022, for his contribution to the dissemination of knowledge of Japanese art in France, through his teaching, his publications, and the curating of exhibitions.
Learn more
"Émile Sénart" prize - AIBL
Debate on the book by Alain Arrault,
Paris, France, 30 June 2022
As part of the "
Cycle de débats du Centre d'études de la Chine moderne et contemporaine (EHESS)
,"
Alain Arrault
's book A History of Cultic Images In China. The Domestic Statuary of Hunan (EFEO-CUHK, 2020) will be discussed, under the moderation of
Marie-Paule Hille
(CECMC-UMR CCJ, Ehess), by
Pierre-Antoine Fabre
(Ehess),
Florence Galmiche
(Université Paris Cité - LCAO, UMR CCJ), and
John Lagerwey
(Ricci Institute of Paris) on Thursday, June 30, from 10 a.m. to 12:30 p.m., at the Condorcet Campus (Forum of the Espace associatif et culturel, ground floor).
Exhibition ''TrancFiguration. Tattoos from Birth to Death''
Chiang Mai, Thailand, 28 June 2022
After being inaugurated and presented at the EFEO Chiang Mai Center and the Alliance française in Chiang Mai in May, and then at the Rai Mae Fah Luang - Art & cultural Park in Chiang Rai in June, the exhibition Trance/figuration, Tattooos From Birth to Death will be installed for two months (July and August) at the National Gallery in Bangkok.
Closure
Paris, France, 06 June 2022
The Maison de l'Asie, and therefore the library, will be closed on Monday 6 June 2022!
New Publication
Mémoires de Chine
Textes et légendes
Alain Arrault
The collection of
Mémoires
de l'École française d'Extrême-Orient has been enriched by a new volume. Alain Arrault presents some sixty photographs on glass plates taken by Louis Finot in China at the beginning of the last century (before 1930).
READ MORE
EFEO/ASIES Paris seminar
Paris, France, 30 May 2022
Catherine Scheer (EFEO) speaks on "Indigéniser le protestantisme bunong: les habitants des hauts plateaux du Cambodge entre rupture et continuité".
This seminar is part of the sequence 6: La question religieuse : sécularisation et réinvention of the common core of the Master in Asian Studies.
From 10:30 to 12:00. The conference will take place online on prior registration.
Once registered, you will receive the elements to connect (seminar link and password).
READ MORE