The missions of the EFEO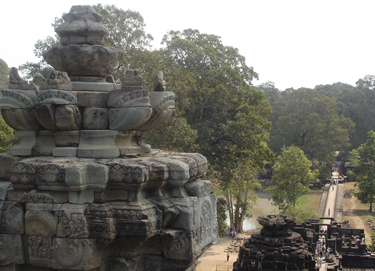 Fieldwork in Asia
The mission of the EFEO, a public institution under the aegis of the French Ministry of Higher Education and Research, is to study the classical civilizations of Asia through the humanities and social sciences. From India, to China and Japan, and covering all of Southeast Asia, the EFEO's research areas include almost all the societies have been under Indian or Chinese influence in the course of history. Leading scholars working at the EFEO's 18 centres and branch offices in Asia have been essential in the development of the School's research programme. Interdisciplinary projects bring together leading scholars in the fields of anthropology, archaeology, history, philology, and religious studies. Since the vast majority of EFEO members carry out field studies in Asia, the emergence of contemporary issues is obviously of relevance for the School.
A Network of International Excellence in Scholarship
For decades the EFEO and its Asian centres have worked in many Asian and European partnerships. Today centres in Pondicherry, Chiang Mai, Siem Reap, Hanoi, Vientiane and Jakarta have their own premises, whereas several EFEO branch offices are hosted by prestigious universities, research institutes and museums. This is the case of Pune, Bangkok, Kuala Lumpur, Yangon, Phnom Penh, Beijing, Hong Kong, Taipei, Seoul and Tokyo.
The EFEO regularly welcomes scholars for extended periods of field study in its Asian centres, particularly for EFEO led research projects. Visiting scholars benefit from the School's local academic partnerships and its rich documentary collections that represent over a century of research. In view of improving scholarly exchanges, the EFEO and 20 leading European institutions for higher education created the European Consortium for Asian Field Study (ECAF) in 2007. As such the EFEO is now in the centre of an international network of leading scholars in Asian studies.
EFEO News
Study Days ''Paris Dialogue on Archaeological Lidar''
Paris, France, 10 December 2018
The
Paris Dialogue on Archaeological Lidar
brings together, for the first time, a broad cross-section of archaeologists who use landscape-scale airborne laser scanning, along with key scholars in archaeological method and theory and specialists from other disciplines such as information technology, remote sensing, ecology, remote sensing, and engineering. The aim is to cultivate an ongoing dialogue between the archaeological lidar community, including important input and perspectives from outside the discipline, with a view to identifying and addressing some of the challenges we face as lidar continues to transform landscape archaeology and eventually becomes a routine part of archaeological fieldwork.
Visit of Christophe Marquet to Cambodge
Angkor, Cambodge, 05 December 2018
The director of the EFEO paying his respect to his majesty Norodom Sihamoni, King of Cambodia, on the occasion of the gala dinner offered by the national authority Apsara in Angkor (Elephant Terrace), for the 25th Anniversary of the International Coordinating Committee for the safeguarding and development of the historic site of Angkor (UNESCO), December 5, 2018.
Study Day '' Connecting Megalithic Cultures in South Asia ''
Paris, France, 04 December 2018
Valérie Gillet and Laurianne Bruneau (EPHE) are organizing the Study Day
Connecting Megalithic Cultures in South Asia
.
From 9:30 to 18:30, Maison de l'Asie, Grand salon on the 1st floor, 22 avenue du Président Wilson, 75016 Paris
Visit of Christophe Marquet to Bangkok
Bangkok, Thailand, 03 December 2018
Christophe Marquet, director of the EFEO, and Pirapon Pisnupong, director of the Maha Chakri Sirindhorn Anthropology Center in Bangkok, Thailand, signed on Monday, December 3, 2018 a MOU which formalizes the scientific relations with this institution that hosts the Center of the EFEO since its creation in 1997.
Study Day ''Typographies orientales et Imprimerie nationale. Histoire et patrimoine''
Paris, France, 30 November 2018
Michela Bussotti and Fabien Simon (ICT) are organizing the Study Day
Oriental Typographies and Imprimerie Nationale. History and heritage
.
From 9h to 18h, Maison de l'Asie, Grand salon 1st floor, 22 avenue su Président Wilson, 75016 Paris.
Free access within the limits of available places.
Exposition Voiles d'Asie / Sails of Asia
Paris, France, 30 November 2018
Since 21st November the new exhibition
Voiles d'Asie / Sails of Asia. Images from the EFEO photo library in collaboration with the research program "SeaFaring: Maritime knowledge for China seas"
hangs at the Maison de l'Asie on the 1st floor and in the reading room of the library.
Free admission, from Monday to Friday from 9h to 18h.22 avenue du Président Wilson, 75116 Paris.