EFEO headlines
In Memoriam: V. Venkataraja Sarma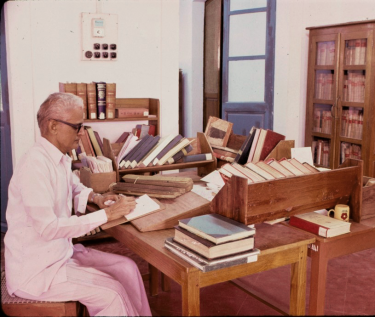 V. Venkataraja Sarma

It is with deep regret that we learned today of the demise of Professor V. Venkataraja Sarma, quondam principal of Tiruvananthapuram Sanskrit College, who after his retirement worked for 29 years as a senior Sanskrit scholar at the Pondicherry Centre of the École française d'Extrême-Orient, finally leaving the institution in December 2016 at the age of 86. On Wednesday, 14 July 2021, at the age of 91, he passed away in Trivandrum, where his son lives.

In the field of Sanskrit grammar, V. Venkataraja Sarma worked for many years in collaboration with François Grimal and with scholars of the IFP and the EFEO on the Dictionary of Examples of Paninian Grammar, or Pāṇinīyodāharaṇakośa, a collaborative multivolume venture of encyclopaedic proportions that presents the examples used to illustrate the rules of the grammatical treatise of Pāṇini (fl. 5th century BCE), the cornerstone of the vast edifice of Indian reflections about language. V. Venkataraja Sarma was also a principal member of the ANR project "Panini and Paninians of the 16th and 17th centuries". During his many years in Pondicherry, he taught and helped many researchers there.

His erudition and his approachability meant that he was widely known as an authority on the Sanskrit grammatical tradition (vyākaraṇa), and he received several awards, notably the President's award for Sanskrit in 2005. He was awarded the Vacaspathi Puraskar by the Kadavallur Anyonyam Prasath (an organisation which conducts every year a famous competition of Vedic recitation in Kerala) on 19 November 2013, and the Sree Sankaracharya University of Sanskrit, Kalady conferred upon him the distinction of a D. Litt. degree at a special convocation ceremony in December of the same year.

The entire staff of the Pondicherry Centre of the EFEO will always remember him with the greatest respect and we express our deepest condolences to his family.