Scholarships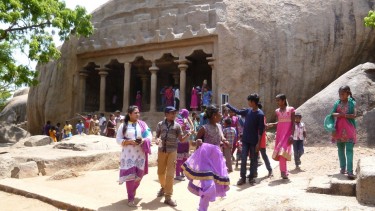 The different fundings proposed by EFEO.
EFEO News
Sculpture conservation workshop of the National Museum of Cambodia (EFEO)
Phnom Penh, Cambodia, 29 September 2020
The legs, as well as the base with the feet, of a Krishna Govardhana statue of Phnom Da (Ka 1641) were returned from the Cleveland Museum of Art last August. At the sculpture conservation workshop of the National Museum of Cambodia (EFEO), the first checks and "arm's length" positioning tests are being carried out on each of the legs in turn.
The statue will soon resume its original posture.
Kyoto lectures
Kyoto, Japan, 28 September 2020
As part of the
Kyoto lectures
,
Kameyama Takahiko
(University of Kyoto / Ryukoku University) presents: "Articulating Inner Dharma: Development of the Five Viscera Mandala in Japanese Esoteric Buddhism".
At 6 p.m. (Japan time). The conference will be broadcasted online via Zoom and on site at the EFEO Center in Kyoto (limited to 10 auditors upon registration at:
efeo.kyoto@gmail.com
).
The password for logging in will be posted on the
Kyoto Center's blog
and
ISEAS websites
the day before.
Training cycle
Phnom Penh, Cambodia, 25 September 2020
The second session of the training cycle "The Archives of the Conservation of Angkor (1908-1975): History, Uses, and Heritage Issues" was organized at the National Museum of Cambodia in Phnom Penh on September 24 and 25, 2020, in partnership with the EFEO.
Learn more about it
READ MORE