2011
International Workshop-cum-Conference

The Archaeology of Bhakti
July 31st - August 13th 2013

Śrīraṅganātha temple, Tiruccirāppaḷḷi
etad aniṣṭakam adrumam aloham asudhaṃ vicitracittena
nirmāpitan nr̥peṇa brahmeśvaraviṣṇulakṣitāyatanam
The king Vicitracitta (i.e. Mahendravarman I Pallava) had this temple marked by Brahmā, Īśvara (i.e. Śiva) and Viṣṇu made without brick, wood, metal and mortar.
Verse (gīti) inscribed on rock-cut cave-temple at Maṇṭakappaṭṭu (ca 600-630), Ep. Ind. XVII, No. 5 (corrected and normalised).
tiruntu tiruttaṇiyil ceñcaṭai īcarkku
karuṅkallāl kaṟṟaḷiyā niṟka - virumpiyē
naṟkalaikaḷ ellām naviṉṟa cīr nampi appi
poṟp' amaiya ceytāṉ purintu
So that (this temple) stands as a stone temple (made) with black stones for the Lord with red matted hairs (i.e. Śiva) in beautiful Tiruttaṇi, the glorious Nampi Appi, who has learned all good arts, lovingly made it beautifully.
Verse (veṇpā) inscribed on the Vīraṭṭāṉeśvara at Tiruttaṇi (ca 900), South Indian Inscriptions XII, No. 94 (corrected and normalised).
Organised by Emmanuel Francis (CNRS, CEIAS-UMR 8564, Paris), Valérie Gillet (EFEO, Pondicherry) and Charlotte Schmid (EFEO, Paris), the second International workshop-cum-conference devoted to the "Archaeology of Bhakti" will be held in the Pondicherry Centre of the EFEO from July 31st to August 13th 2013.
"Royal Bhakti, Local Bhakti" will be the focus of this year's edition. Our aim is to describe the role and circumscribe the impact of various agencies in the development of Bhakti: ruling kings, royal courts, local elites and devotional communities. In contradistinction to commonly held views, temples commissioned by ruling kings were not the majority and several groups or individuals fostered or patronized Bhakti sites. Queens, princes, elite circles, local Brahmin corporate assemblies, local individuals and merchants communities, etc. were rather dynamic patrons and agents of Bhakti.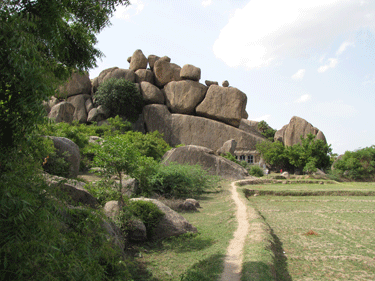 Mahendravarman I's cave at Taḷavāṉūr
Our contention is that the role of these diverse agents-regarding the building and gifting of temples, patronage of rituals, composition and commissioning of texts such as devotional hymns or inscriptions-has been generally understated and should now be emphasized.
Far from downplaying the importance of kings as patrons, we want to explore the connection between the different forms of Bhakti agencies. Do these represent independent streams of Bhakti? Is there a continuum from grand-scale royal temples to locally designed ones? What is the royal share in the development of Bhakti? How did royal Bhakti respond to local Bhakti, and vice-versa? Is the patronage by members of royal courts, especially women, equivalent to that of ruling kings?
Vasudha Narayanan (Distinguished Professor of Religion, Director of Center for the Study of Hindu Traditions, University of Florida) and Richard H. Davis (Professor of Religion, Director of Religion Program and Director of Asian Studies Program, Bard College) will be our two guests of honour.
This workshop-cum-conference is opened to scholars, students and neophytes. Participants are encouraged to present their work in progress during the workshop.
This event will be followed, from 19th to 30th of August, by the annual Classical Tamil Seminar of the EFEO Centre at Pondicherry, devoted this year to the reading of the Mullaippāṭṭu, one of the long poems of the Pattuppāṭṭu.

Vellore Fort temple
Workshop (July 31st to August 9th)
The workshop will take place from July 31st to August 9th. Each participant may take half a day (or more if necessary) for her/his presentation. She/He may present iconographical and epigraphical evidence, read Sanskrit or Tamil texts, confront textual with iconographical data, etc.
During the workshop we will alternate between presentations in the EFEO Centre at Pondicherry and field-work excursions. The organisers will organise visits to Kāñcīpuram (a centre of devotion to Śiva and Viṣṇu), Tiruttaṇi (a holy place for the god Murukaṉ), Centalai and Tirucceṉṉampūṇṭi (local Śaiva temples), and Tanjore (site of a major royal Cōḻa temple).
Conference (August 12th to 13th)
As a conclusion to the workshop, a conference will take place on 12th and 13th of August. Each speaker will have 30 to 45 minutes each (+ 15 minutes for questions) to present her/his paper. Sources from South-East Asia can also be included.
Speakers who have made a presentation during the workshop need not give a paper related to the same subject, but they may choose to do so.
(PDF file 281 kb)
Registration
Deadline for registration: 31st March 2013.
If you wish to speak during the workshop and/or the conference, please fill a registration form and send it before March 31st 2013.
Please send also a CV (with a list of your publications) and a summary in English and in French, or in English only, of the presentation you intend to give. These documents will help us to determine the selection of speakers, which will be finalised early April 2013.
In order to participate in the workshop and/or the conference without presenting a paper, another registration form should be sent before March 31st 2013, along with a CV (students please do include a description of your work in progress!).
There are no registration fees for this event. However, a small financial contribution will be required to cover the expenses of the field-trips (transportation and accommodation outside Pondicherry).
Expenses for flight tickets as well as accommodation in Pondicherry will be borne by the participants. The Centre of Pondicherry may help finding accommodation in town. Please contact Ms. Prerana Patel, secretary of the EFEO centre at Pondicherry.
(PreranaPatel@efeo-pondicherry.org)
Working language
The presentations and all discussions will be held in English.
Proceedings of the conference
The proceedings of the conference will be published in English.